Port Orleans News
To receive Port Orleans news updates directly to your own computer, please subscribe to our free
RSS News Feed, or follow us on Facebook or Twitter.
Posted Thursday 5th February 2015, 10:38am (EST) by The Sassagoula Sentinel
Direct-to-Room check-in service will become a permanent feature at Port Orleans as from Tuesday 10 February.

For those people who were following the limited tests that took place last year, you may be pleased to know that the 'Direct to Room' checkin service will now become a permanent feature at the Port Orleans resorts starting from next week, Tuesday 10 February, and soon after then at the other Disney resorts.

It still won't be compulsory of course - you can always head over to the Front Desk when you arrive if you prefer, or if you need something specific - but assuming you've already received your Magic Bands in the post and have completed the necessary online process, it will be possible to have your resort room number communicated to you by email and/or text message shortly before your arrival. You will then be able to completely bypass the whole traditional registration process and go straight to your room with your Magic Band already activated and ready for use to get you into your room, pay for dining, use your ticketed admissions into the theme parks, access FastPass+, etc.

While this won't appeal to everyone - especially for those first-time visitors who may not know their way around the resort yet - for returning guests who just want to get to Disney and head straight off to a park, it could be a real time-saver.
Posted Saturday 31st January 2015, 4:00pm (EST) by The Sassagoula Sentinel
The February 2015 Recreation Activities and Movie Schedules for Port Orleans Riverside and Port Orleans French Quarter are now available. See the main Recreation Activities Schedules page for full-size printable PDF versions.

The evening campfires will commence at 5pm this month and the Movies Under the Stars will be screened at 7pm. These events will this month take place on alternate days at the two resorts - Monday, Wednesday, Friday & Saturday at Riverside, and Sunday, Tuesday, Thursday & Saturday at French Quarter.

Oh, and don't forget Mardi Gras on Tuesday 17 February.


Posted Saturday 3rd January 2015, 4:42am (EST) by The Sassagoula Sentinel
Update: Please see our new Resort-Specific Merchandise page for more details and lots more photos.

No sooner does the new year arrive than we are starting to see some brand new resort-specific merchandise arrive at the Port Orleans shops. After years of waiting, this is a very welcome sign of a change in direction from Disney. So far we've received some pictures and prices of the range on display in Fulton's General Store at Port Orleans Riverside, and presumably there are similar items over at French Quarter too.

These three pictures were recently posted by @Schmoofy, out there in the Twitterverse: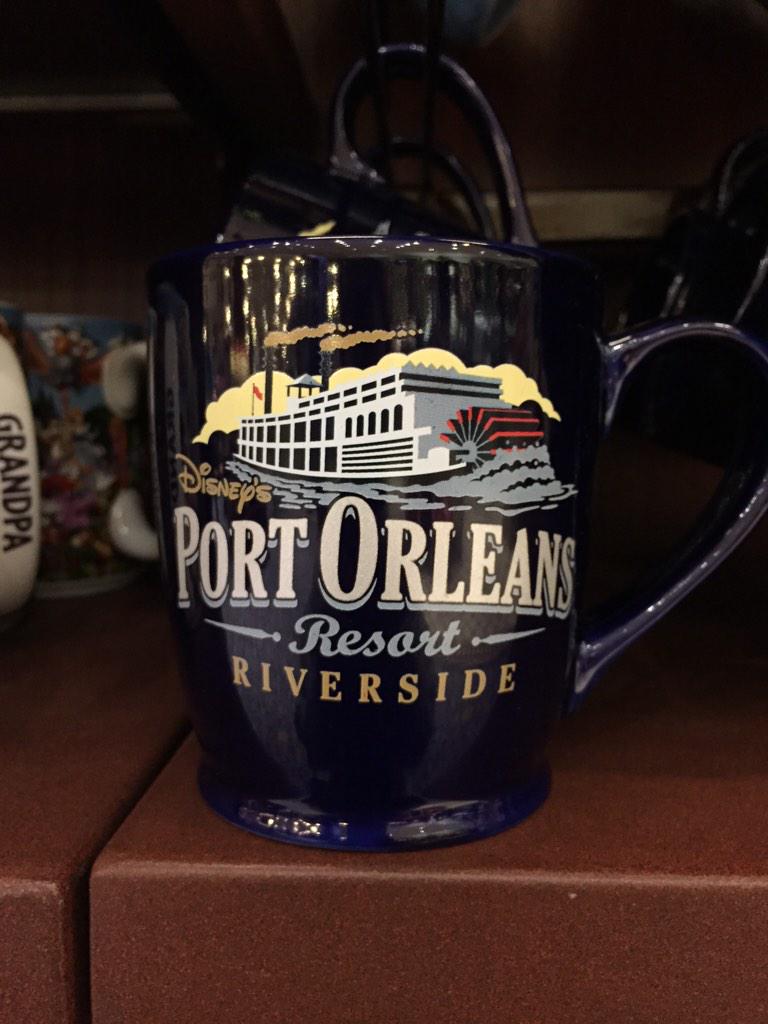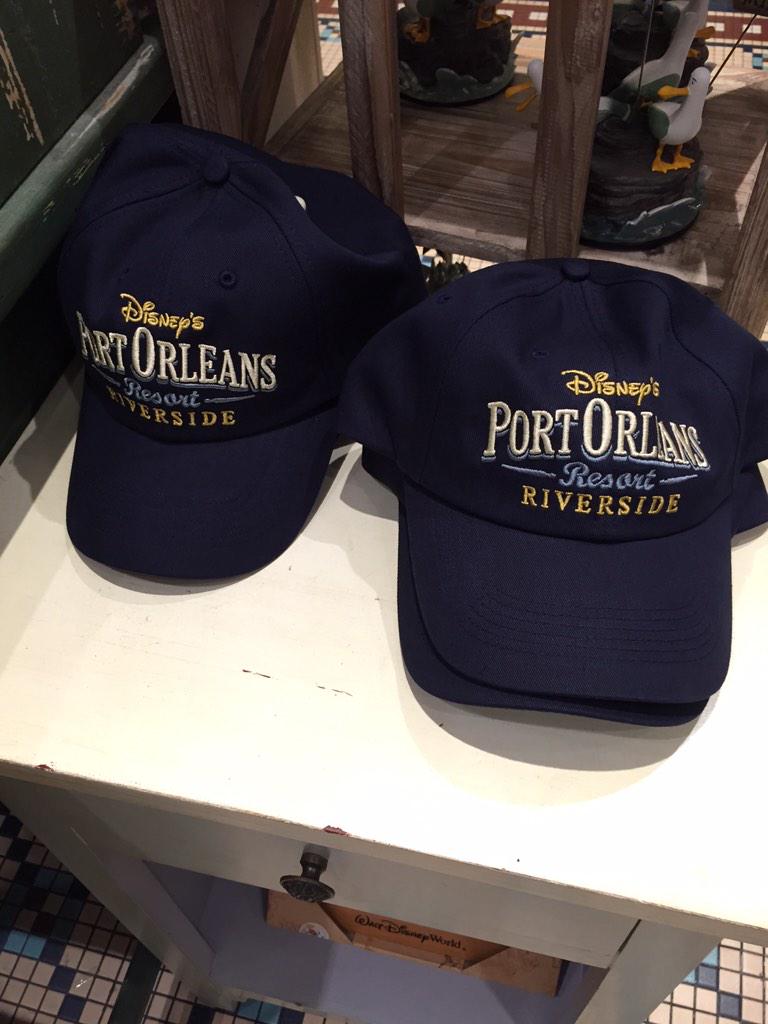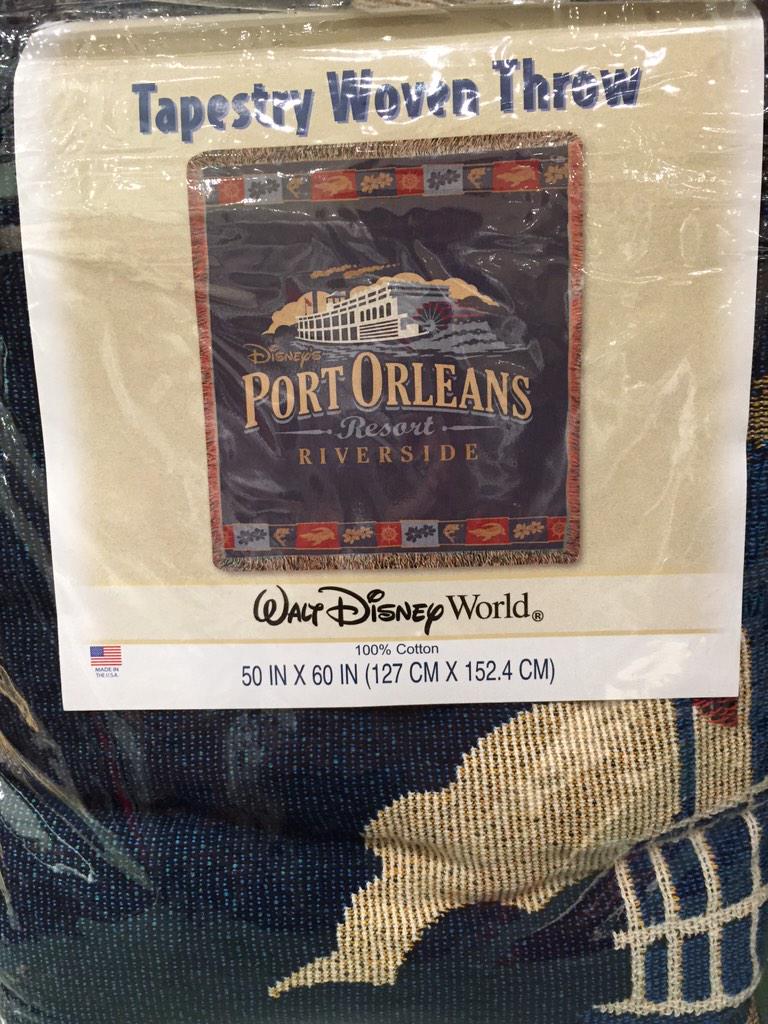 And DISboards user FelisLachesis has just added some more photos and checked the prices:




Plus the products which were previously available:




Prices (plus sales tax):
Mug: $14.95
Baseball cap: $19.95
Throw: $74.95
Ornament: $14.95
Pictures: 5"x7" (in 8x10 frame) $35, 3"x5" (in 5x7 frame) $25
Trading pin (blue level): $8.95


Update on January 10th:

More great photos from Bret+ (@Schmoofy on Twitter) of French Quarter items: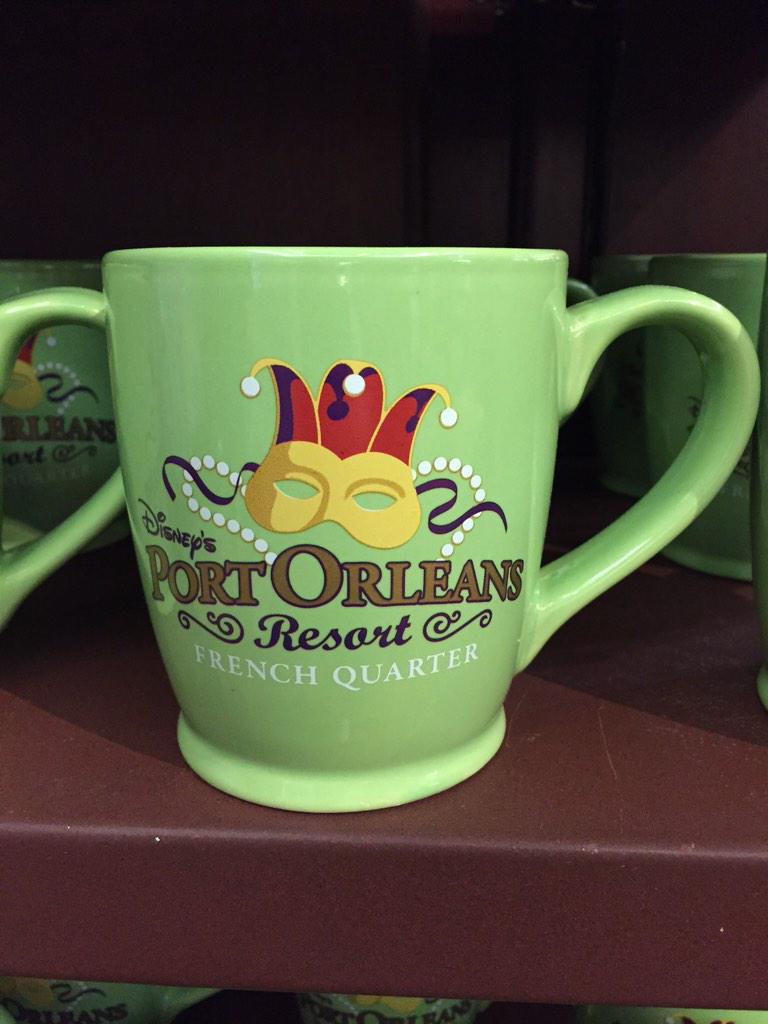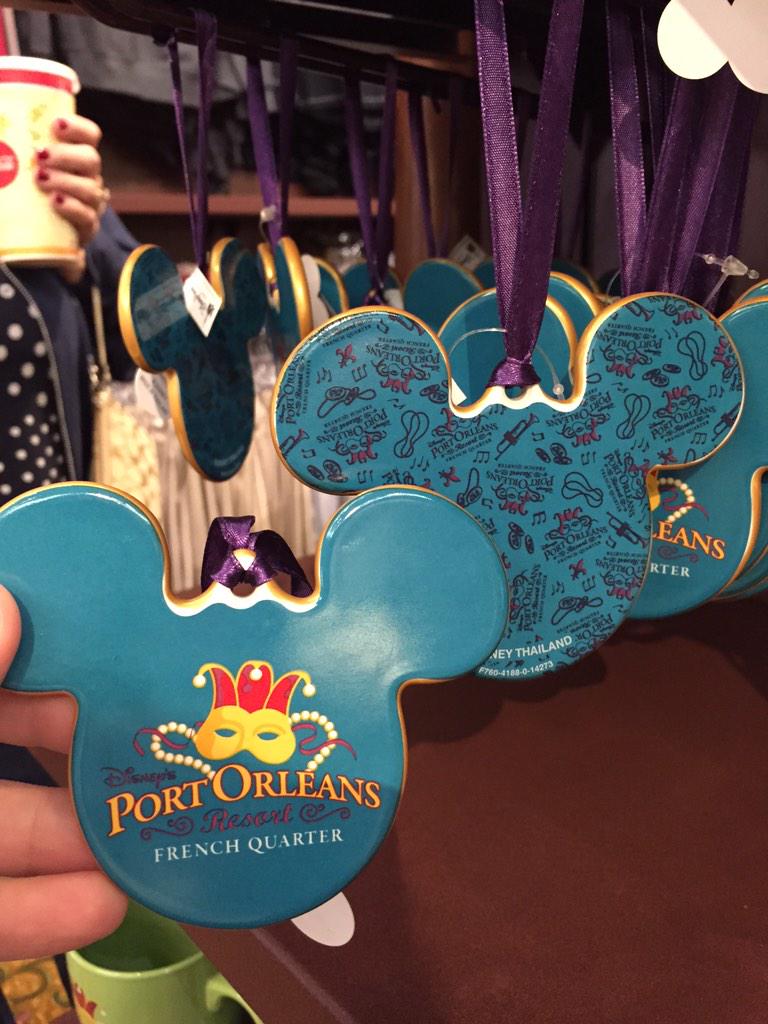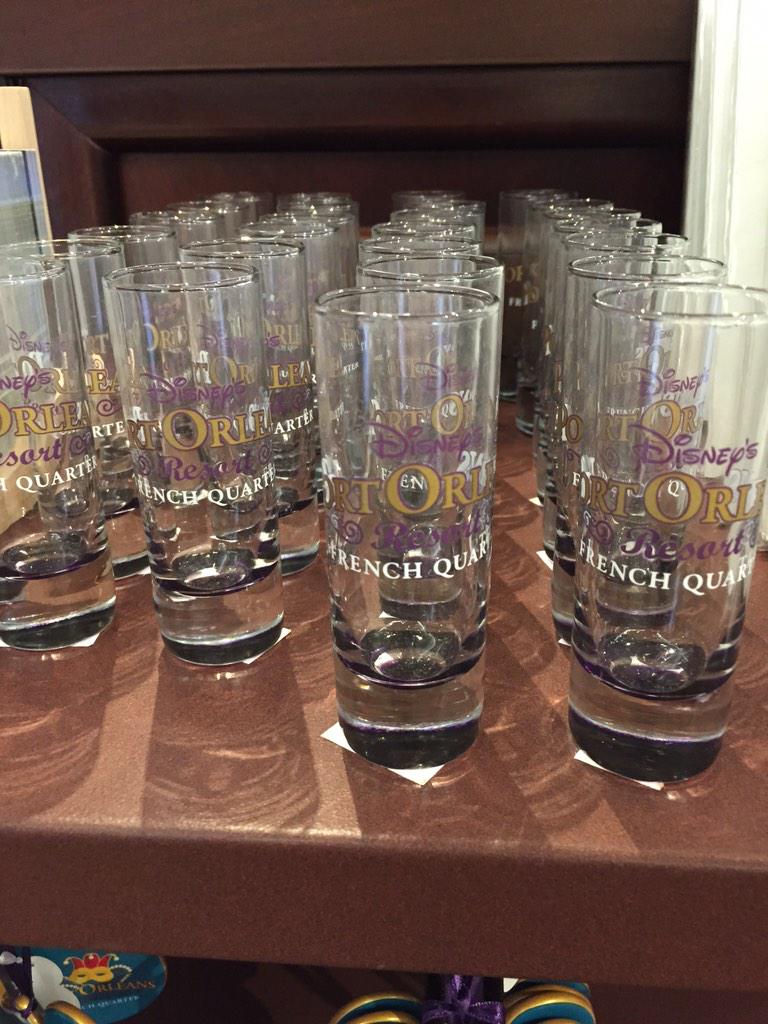 Posted Thursday 1st January 2015, 7:11am (EST) by Admin
I'd like to wish everyone a fabulous New Year - I hope 2015 is a good one for you, and hopefully it will include at least one visit to our favourite resort hotel.

I'm sure there will be lots to look forward to at Port Orleans this year, and a few changes might even be coming in the very near future. For example, I hear that following the successful trail period in the summer there will soon be a permanent facility for direct-to-room check-ins which, although optional, will be a very useful feature for returning visitors who already know the resort. And all those people who have been longing to be able to pick up some resort-specific merchandise at the gift shops might just be in for a pleasant surprise the next time they visit [see news update on 3rd Jan for some pictures and prices of new products].

It also seems like an opportune moment to do a quick roundup of some of the little bits of Port Orleans news from last year which may not have made the headlines:

The new Sassagoula River Ferry dock at Downtown Disney opened in mid-August, using a custom-built jetty linked to a new footbridge between the Rainforest Café area and the Saratoga Springs Resort:
For guests using the Disney Dining Plans, the included Refillable Mugs are now often distributed from the main registration lobby during busy times, so you can pick them up as soon as you check in.
A limited-menu continental breakfast has recently been made available at the River Roost Lounge featuring pastries, coffee, etc. Very convenient for a quick pre-park snack with no lines.
The road layout at the main bus stops has been modified slightly to accommodate the turning circles of double-length articulated "bendy" buses which should help to ease the waiting times during busy periods. Photo of the work site in August:
During the summer, the landscaping teams trimmed back some of the larger trees which were starting to obscure guests' views. In particular, the river-facing courtyard at Magnolia Terrace (near to the pretty little gazebo) has been opened up considerably, and there will be more flowering plants added to bring a splash of colour to that area:
The old thick quilted comforters were removed from guest bedrooms earlier in the year, to be replaced by plain white sheeting and a decorative bed-scarf across the foot of the bed. There is a possibility that the somewhat incongruous white covers may be replaced by more tastefully themed colours at some point in the future.
Trials were held in some French Quarter rooms to see if removing the adjustable blinds from guest rooms might help to make the rooms brighter. I don't know whether this test will be expanded to the rest of the resort, but I rather hope not as the only remaining option for guest privacy was to shut the curtains completely, which rather defeats the object:
Winter operating hours for the main feature pools (9am-10pm) were introduced at the start of December, and it is likely that the hours will be reduced still further in January/February. The campfire and movie schedules have also been trimmed back a little for the low season, with events now occurring on alternating days at Riverside and French Quarter.
A new backstory-themed menu was introduced at Boatwright's Dining Hall at the end of October, and a trial was carried out in November/December offering a selection of cold food options at the Muddy Rivers pool bar.
Major work was completed on the Oak Manor roof during the Spring/Summer, necessitating a rolling closure of parts of the building for several months.
On 2nd March, the popular boat rental facility at Port Orleans Riverside's marina was shut down. It was initially speculated that this might have been due to the ongoing construction work in the Downtown Disney area, but at the moment it seems that the closure will be permanent.
On 24th February, the resort airline checkin/bag-drop service was extended to include some International flights in addition to the existing domestic routes.

It's been a busy year for this site too, with several new features and information pages being added to portorleans.org. FastPass+ and My Disney Experience are now a staple part of any stay at Walt Disney World, and details were added to the site back in February. Also, lots of work has gone into updating the building floorplan maps and creating new panorama views of all of the guest room types. There's also been plenty of behind-the-scenes activity to make the site menus and forums operate more reliably on some mobile devices and make the News pages more easily browsable. Plus all the routine adjustments to cover the 2015 room price releases, updates to the restaurant menus, monthly recreation schedules and so on. Here's a quick summary from the Site Updates page:

13-Dec-14: Rewrote the News parsing PHP code to tidily paginate the display pages and provide better access for individual items.
09-Dec-14: Added more details and photos to the two resort gift shop pages, Fulton's General Store and Jackson Square Gifts & Desires. Long overdue!
06-Dec-14: Revised the top menus to be more compatible with iPhones. Also updated fonts and made some other site-wide layout tweaks.
03-Dec-14: Completed 6 new 360° panoramas, including new in-room images showing the updated bed covers.
18-Nov-14: Added new food options being offered for a trial period at the Muddy Rivers pool bar.
15-Nov-14: Updated all of the food court and pool bar menus and prices (Riverside Mill, Sassagoula Floatworks & Food Factory, Muddy Rivers and Mardi Grogs).
04-Nov-14: Added the full 2015 room rack-rate pricing structure, including graphical representations of the seasonal price fluctuations.
01-Nov-14: Further updated building floorplan maps (corrected the annotations for some connecting Accessible rooms) and added a direct access page to make it easier to view or download individual maps.
29-Oct-14: Updated the choices and prices to reflect Boatwright's Dining Hall's new 'themed' menu.
09-May-14: Updated building floorplan layouts to include details of all Connecting Rooms.
01-May-14: Site now includes Google Ads, hopefully remaining fairly unobtrusive within the overall user experience. Visitor donations just weren't covering the overall running costs, so a necessary evil I'm afraid.
11-Apr-14: Added new Mobile layout to the Discussion Forums to make them easier to use on phone screens.
31-Mar-14: Added Sassagoula Pizza Express menus and poolside & in-room delivery details.
30-Mar-14: Updated site layout and menu bar to provide easier site navigation.
03-Feb-14: Added "My Disney Experience" page covering the Disney website & mobile app, Magic Bands, FastPass+, etc.

Well, that's about it for now - have a very Happy New Year everyone!

Andre